Piña Colada Tres Leches Cake
A luscious sponge sheet cake soaked in milk and flavored with pineapple, coconut, and rum— a piña colada treat to whisk me back to the beach in Mexico.
Coming home from Mexico was extremely hard. The week we spent on the Riviera Maya was the best vacation in recent memory and I wish it could have lasted a year.
I wish I was still there on the beach, with a margarita in hand.

We took the toddler with us and joined Steve's folks at a resort just south of Cancun. The 5 of us had a blast sampling beaches and food up and down the coast.
We did everything, and nothing, in that week. We binged on guacamole, snoozed in the sun, danced in the waves, sipped on cold drinks, visited ruins, and snorkeled amongst tropical fish. It was low key, relaxing, and just what I needed.
My only regret? Not enjoying a true piña colada while I was there. We had a bottle of coconut rum that disappeared far too quickly, but I didn't get my pretty cocktail topped with a wedge of pineapple and maraschino cherry.
So here it is… in a cake. For all of us to enjoy.
Taking boozy drinks and turning them into desserts is always a good idea if you ask me, and tres leches cake seemed like a recipe ready to team up with a tropical cocktail.
Tres leches cake is a Mexican dessert made by soaking a simple cake in 3 different kind of milks— sweetened condensed milk, evaporated milk and heavy cream. I swapped the heavy cream for coconut milk; and chunks of pineapple, a few splashes of rum, and toasted coconut completed the piña colada ensemble.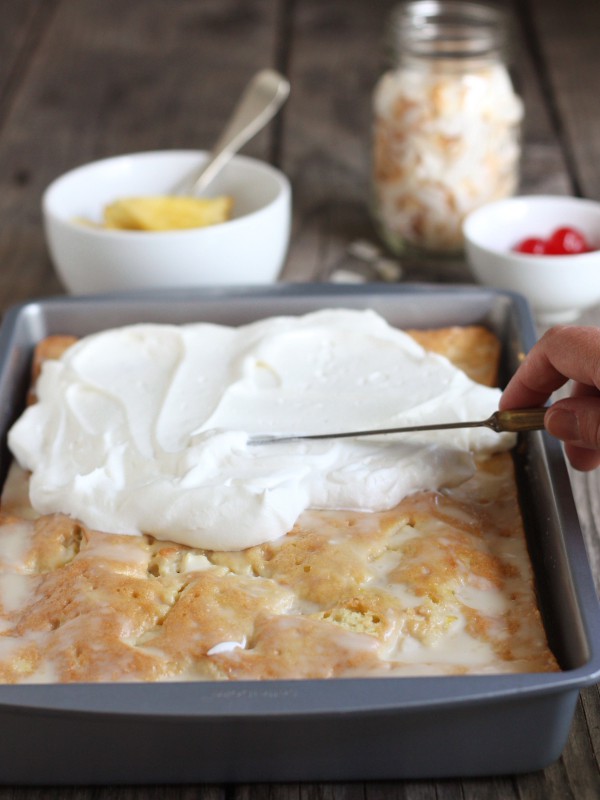 The cake is rich and moist, and perfect for cinco de mayo, a summer party, or even just a weeknight treat. It's not quite the same as sipping a piña colada on the beach, but it's a not-too-distant second and I'll take it.
baking tip:How to toast coconut
It's easy! Just follow these steps:
Preheat oven to 350 degrees F.
Spread shredded, flaked or shaved coconut evenly on an ungreased sheet pan.
Bake, stirring every few minutes, until golden brown. This will take about 7-10 minutes, depending on how toasted you want your coconut.
Piña Colada Tres Leches Cake
A traditional Mexican cake scented with the flavors of a pina colada cocktail - pineapple, coconut and rum.
Ingredients
For the cake:
1 ½ cups all-purpose flour (180 grams)
1 tablespoon baking powder
½ teaspoon salt
6 large eggs , separated
1 cup granulated sugar (200 grams)
½ cup unsweetened coconut milk (120 ml)
1 teaspoon vanilla extract
1 tablespoon rum
1 cup pineapple , finely chopped (see Notes) (240 grams)
For the leches:
1 cup unsweetened coconut milk (237 ml)
½ cup sweetened condensed milk (120 ml)
½ cup evaporated milk (120 ml)
1 teaspoon vanilla extract
1 tablespoon rum
For the whipped cream topping:
1 ½ cup heavy whipping cream (355 ml)
¼ cup granulated sugar (50 grams)
½ teaspoon vanilla extract
1 ½ cup coconut , toasted (see Notes) (130 grams)
Pineapple wedges , for garnish
Maraschino cherries , for garnish
Instructions
To make the cake:
Preheat oven to 350°F. Generously grease a 9x13-inch baking pan.

Combine the flour, baking powder, and salt in a bowl. Set aside.

In the bowl of a stand mixer fitted with a whisk attachment, or in a bowl with a stand mixer, beat the egg yolks and sugar on medium high speed until thick and pale in color, and falls in ribbons when you lift the whisk, about 5 minutes.

Stir in the coconut milk, vanilla and rum. Gently fold in the flour mixture.

In another mixing bowl (you can also transfer the batter to another bowl and clean the mixing bowl), beat the egg whites on medium high speed to soft peaks. Gently fold the egg whites into the rest of the batter in 3 additions. Stir in half of the pineapple chunks.

Pour the batter into the prepared sheet pan. Sprinkle the remaining pineapple on top of the batter. Bake until cake is golden brown and the center bounces back when touched gently, about 30 minutes. Let cool completely.
To make the leches:
Combine the coconut milk, sweetened condensed milk and evaporated milk. Add the vanilla and rum.

Use a skewer or fork to poles holes in the cake, pressing them all the way down to the bottom. Pour the leches mixture over the cake, careful to cover it all. Cover with plastic wrap and chill in the fridge for 3 hours or overnight (see Notes).
To make the topping:
Whip the heavy cream until it starts to thicken. Add the sugar and vanilla extract and whip to soft peaks. Spread the whipped cream on top of the cake. Top with the toasted coconut, slices of pineapple and maraschino cherries.

Store leftovers in the fridge for up to 3 days.
Notes
NOTES
If desired, you can use canned crushed pineapple.
You can use sweetened or unsweetened flaked coconut, per your preference.
If you do not have time to let the cake sit for 3 hours, you can pour only some of the leches mixture on top of the cake so there is less to be soaked up. The cake won't be as moist, but it will work in a pinch.
Calories: 447kcal, Carbohydrates: 47g, Protein: 8g, Fat: 26g, Saturated Fat: 18g, Cholesterol: 130mg, Sodium: 175mg, Potassium: 380mg, Fiber: 2g, Sugar: 32g, Vitamin A: 624IU, Vitamin C: 8mg, Calcium: 149mg, Iron: 2mg